Evolution Range: How to Assign Static IP Addresses to Multiple Cameras
This article applies to the following cameras:
EVO-05
EVO-05 Mini
EVO-12
EVO-180
To assign static IP address to multiple cameras, the cameras must be connected to an isolated switch, with no DHCP server.
Note: The Oncam Camera Configuration Tool is required to perform this function.

Use the following steps to assign static IP addresses;
Discover camera(s) using the Configuration Tool.
On the Product Filter, click Select All to select all discovered camera(s) or manually click on the checkbox [] next to each camera to select.
Click on the Network Settings tabs below.
Click on Disabled radio button to disable DHCP on the camera(s).
Enter the first IP address, subnet mask and default gateway of the desired range.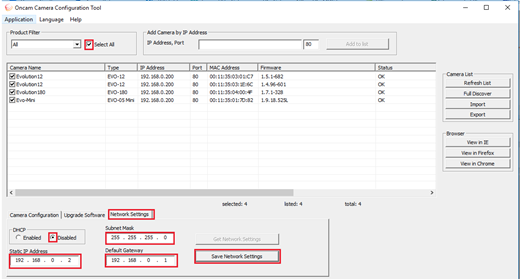 Click Save Network Settings to apply the configuration.
This opens a new dialogue box, click on Yes and confirm the Camera logins on subsequent dialogue box.